Author: JT Lawrence
Narrator: Jean Ann Douglass
Length: 4 hours 1 minute
Publisher: Fire Finch Press⎮2018
Genre: Science Fiction
Series: When Tomorrow Calls, Book 0.5
Release date: Jul. 3, 2018


The Handmaid's Tale meets Mr. Robot in this smart, sexy, cyberpunk thriller.

2021. A tribe of surrogates. A terror cult. A deal struck in desperation.

Keke is a biopunk journalist who won't stop till she exposes the truth. Will her reckless ambition help the surrogates, or harm them?

Join Keke on her mission to uncover the biggest story she's ever encountered. You'll meet Jasmine and Marko and get pulled under with Kirsten, who's on the cusp of her own nail-biting story.

Ready for your new pause-resisting addiction? Grab the prequella for the futuristic conspiracy thriller series When Tomorrow Calls now.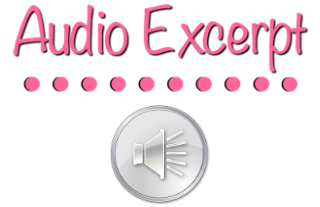 JT Lawrence is a bestselling Amazon author, playwright and bookdealer based in Parkview, Johannesburg. She is the mother of two small boys and a baby girl, and lives in a house with a red front door.

Jean Ann Douglass is an actor, playwright, producer, and voice artist living in Brooklyn, NY. She has recorded regional and national commercials, and numerous apps that assist kids learning how to read. She performs and co-creates work with Eric John Meyer for Human Head Performance Group, an internationally touring theater company. As a writer, her work will be seen at Underbelly at the Edinburgh Fringe this August.

I received this audiobook as part of my participation in a blog tour with Audiobookworm Promotions. The tour is being sponsored by JT Lawrence. The gifting of this audiobook did not affect my opinion of it.
Review
[Flora]
A fast paced book with excellent characters. The story is told in first person point of view through an extremely sexy woman. Sexy, not just for her steamy sex scenes, but because she is smart and loyal and looking for justice and who will do anything for her story. The story of KeKe is set in the future with realistic characters and technology. Set in South Africa, she reports on a really complicated mess of a future filled with a very low birth rate, murders, religious fanatics. Because of the low birth rate, the have surrogate mothers, who are colquisteered away for them and the babies they are carrying. When KeKe is given a hot tip that these surrogates are the target of a terrorist group, she risks everything to get her scoop. Her pursuit of the truth "that her readers have a right to know" could ruin everything and even get people, including herself, killed. This strong, intelligent woman who wears leather pants and drives a motorcycle just got the break of a lifetime or a death sentence. The author includes a complex assortment of supporting characters who are not all who the seem to be, which maybe KeKe's undoing. Between the action, mystery and steamy love scenes this is the start of a wonderful series. The book held my interest and I just needed to know more of KeKe's story and this South African world. The author use of foreshadowing and breadcrumbs of hints lead me through the fast paced story that I can't wait to hear more. I enjoyed the author's storytelling and I have purchased the next books in this series because I have become a fan. The narrator did an excellent job reading this exciting tale. She is articulate and really captured the feel of this story. I look forward to listening to her become these characters. I like that I could listen to this without ever feeling I didn't know who was who or what was going on. This is a narrator I will look forward to hearing more from.
Rating:
Amazon/GoodReads Rating: 4.5/5
In Patti's Imagination Rating: 9/10

When Tomorrow Calls Giveaway: Audiobook & eBook Set

PREQUEL
Aug. 7th:
Dab of Darkness Audiobook Reviews
The Book Junkie Reads . . .
Aug. 8th:
Lomeraniel
Bound 4 Escape
Aug. 9th:
What Emma Read Next
Writers N Authors
Aug. 10th:
Book Addict
T's Stuff
Aug. 11th:
Lilly's Book World
In Pattis Imagination
Aug. 12th:
Carolyn M. Walker, Author of Thrilling Fiction
Aug. 13th:
Jazzy Book Reviews
BOOK ONE
Aug. 14th:
Dab of Darkness Audiobook Reviews
Aug. 15th:
Writers N Authors
T's Stuff
Aug. 16th:
Bound 4 Escape
Aug. 17th:
Book Addict
Aug. 18th:
What Emma Read Next
Aug. 19th:
Jazzy Book Reviews
Lilly's Book World
Aug. 20th:
The Book Addict's Reviews
Carolyn M. Walker, Author of Thrilling Fiction
BOOK TWO
Aug. 21st:
Dab of Darkness Audiobook Reviews
Aug. 22nd:
Writers N Authors
T's Stuff
Aug. 23rd:
Bound 4 Escape
Aug. 24th:
Jazzy Book Reviews
Aug. 25th:
Book Addict
Aug. 26th:
What Emma Read Next
Aug. 27th:
The Book Addict's Reviews
Carolyn M. Walker, Author of Thrilling Fiction
BOOK THREE
Aug. 28th:
Dab of Darkness Audiobook Reviews
Writers N Authors
Aug. 29th:
Jazzy Book Reviews
Lilly's Book World
T's Stuff
Aug. 30th:
What Emma Read Next
Sep. 1st:
Book Addict
Bound 4 Escape
Sep. 2nd:
Carolyn M. Walker, Author of Thrilling Fiction
Sep. 3rd:
The Book
Addict's Reviews